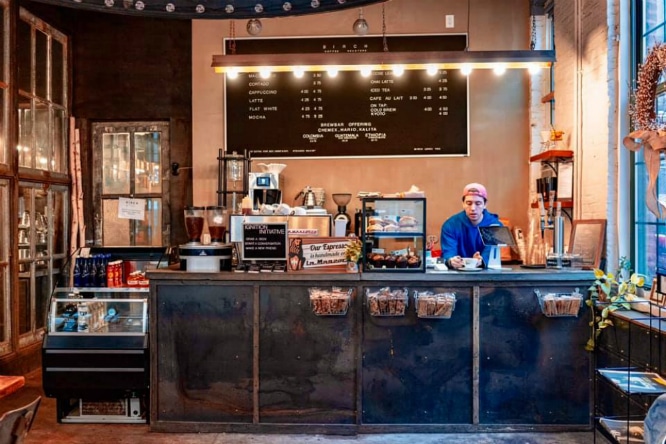 As the saying goes: "As long as there was coffee in the world, how bad could things be?". Indeed, coffee has become the mainstream beverage in today's society. Rather than merely a popular beverage, it has become a necessity for many people all around the globe. Malaysians are not excluded from this trend too. Dating back to the origin of coffee in Malaysia, it was firstly introduced during the British colonial rule and is primarily sold in kopitiams by Chinese businessmen.
Even though coffee has initially been loved by the older generation, the younger generation has gradually become the mainstream consumers of the popular beverage. Coffee nowadays has come in different forms and combinations which makes it more and more appealing for the youth. Independent coffee shops are emerging everywhere to meet the demand of coffee enthusiasts in major cities including Kuala Lumpur, Kota Kinabalu, Kuching, Georgetown, Ipoh, and Johor Bahru. It has become a new form of culture, also known as the "coffee culture".
What Is a Coffee Shop Business?
A coffee shop can be referred as a business outlet that sells varieties of coffee like latte, cappuccino and more, along with baked goods such as biscuits. In Malaysia, coffee can be easily found in different businesses such as cafes, mamak shops, drive-thrus, pop-up stores, kopitiams and even smart vending machines. There will never be an exact time for Malaysians to have coffee. Anytime is coffee time. Coffee is normally served with basically anything like sandwich, roti canai or with a Malaysian favourite, nasi lemak.
Full with ideas and creativity to implement in your business? As a coffee shop business owner, you enjoy the freedom to decide the variations of coffee to be served, or come up with your own unique coffee. On top of that, you can have your coffee shop designed with any theme you love. You can also think about the activities that your customers can enjoy when they visit your shop. It could be either board games or crossword puzzles that is welcomed by all, or maybe you could organize live performances, have coffee brewing classes or events that your unique coffee shop can handle.
Coffee shops are an ideal spot for fellow Malaysians to have meetings, lunch dates, project researches, friend gatherings, and more. They could maybe just visit your shop just to enjoy the vibes with the surrounding ambience, lighting and strong scent of coffee beans. With all the reasons mentioned, setting up a coffee business along with your passion for coffee have the potential to bring a bright profitable future for you.
Setting Up Your Coffee Shop Business in Malaysia
Here are a few tips that might come in handy when you are beginning your coffee shop business journey:
1. Creating a Business Plan
It is a must for you to conduct sufficient research into this industry before officially taking action to implement your ideas. There are details to look out for, such as company descriptions, goals, visions, management, market analysis, products, services and marketing related information. Ensuring these details will lead you to the right path to a successful coffee shop business.
2. Budget Plan
Outlining your budget allows you to clearly see the cost that your business takes up. You can foresee the future projections of your profits and cash flow, as well as preparing yourself to counter the unexpected costs. You can meet a monthly financial sales objective while doing so. Money is a major factor affecting the performance of your business, whereby wise management of your business's finance is crucial.
3. Selecting a Strategic Location
Choosing a proper location to have an effective reach of your target customers in equally important. That location has to be easily accessible, in which customers can simply frop by for a go-to coffee, spend a couple of hours in your café without worrying about the time. In short, an optimal location for your coffee shop business welcomes you to a wide reach of potential yet target customers.
4. Hiring a Great Team
Employing baristas and employees with competent skills and crafts to make coffee defines the image of your business to the customers. You can also improve your team's skills by signing them up to attend different workshops such as making coffee, coffee art, and so on. A certain level of skillset is required to meet the industry standard to maintain the high quality and professionalism of the product and service to your customers.
5. Creating a Unique Name
In order to stand out in the competitive coffee shop business industry, coming up with a special name for you is important to make customers remember you. But please do note that there may be consequences if you use a name that has already been trademarked.
By combing all the elements ranging from target market, location, sufficient amount of capital, branding and so forth, it will most likely lead your business and passion to a fruitful yet effective outcome. Never back down whenever there are naysayers assuming that the food and beverage business will never work. Just work with your passion, and time will tell its truth.
Licenses and Permits for Coffee Shop Business
Registration of business with the Suruhan Syarikat Malaysia (SSM) is a must and first thing to do when setting up a business in Malaysia. Business is defined as trade, commerce, craftsmanship, calling, profession, or any other activity carried out for financial benefit in the Registration Act of 1956, or ROBA 1956. Filling in the Business registration Form (Form A) and submission of documents can be done virtually through their online platform. Registration fees vary based on the type of legal entities you wish to set up; in the case of sole proprietorships using their personal name, it will cost RM30.
On top of that, registration of sole proprietorship or partnership with a trading name will cost RM60. For every extra branch that you register for your company, a further RM5 is required. After registering your business with SSM, you still have to take note of additional permits or letters of approval that your business needs to acquire in order to operate legally. Here listed down are some licenses you might need to take note of:
Halal Certifications
Business Premise Licenses
Signboard Licenses
Food Handling Permits
Alcohol Licenses
Health and Safety Permits
Additionally, every business in Malaysia also requires one to create a corporate bank account, register a business address, and register for company tax purposes with the Lembaga Hasil Dalam Negeri (LHDN). Calling your local municipal council and state government would be a smart approach if you wanted more details and confirmation.
---
Looking to register your very own Sdn. Bhd.? Look no further. Register now with Malaysia's #1 award-winning Online Company Secretary!
Contact us! WhatsApp @018-767 8055