You're probably here because you decided on starting a new business and wondering how to register a Sdn. Bhd. online in Malaysia.
TL; DR
You can register online, hassle-free and fast.
100% online via BossBoleh.com – RM 1,499 (Verify your identity online using eKYC)
50% online via SSM's MyCoID – RM 1,010 (You'll still need to queue up at SSM office for verification
We will not be comparing the differences of a Company versus Sole Proprietorship, Conventional Partnership or Limited Liability Partnership (LLP).
The long version:
Do you know all the important elements that are needed before registering your Sdn. Bhd. business? Don't worry, we've got you covered. We have put together a list of 5 key factors to address before starting your business just for you.
Read our full article here.
METHOD 1: Registering via Company Secretary (Online)
Step 1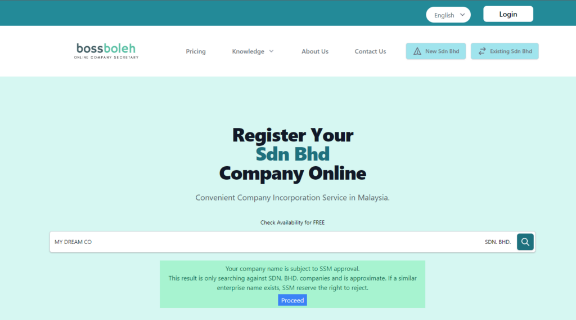 Do take note that your preferred company name is still subject to SSM's approval. We will contact you if it happens and you may pick another name without any charges.
Step 2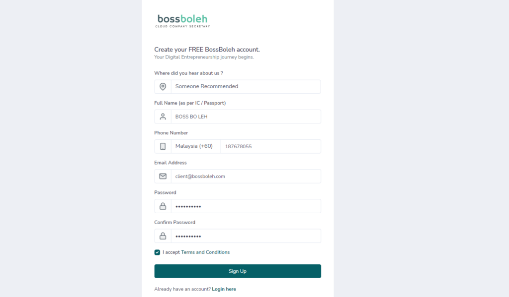 Step 3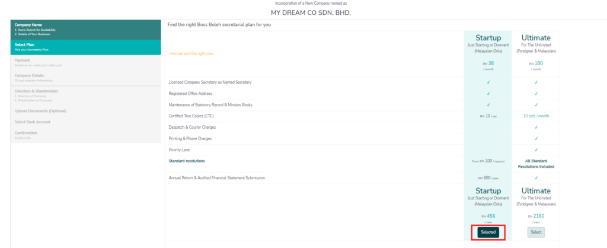 Step 4
After payment is made, you may proceed to fill in the remaining information like Directors and Shareholders, etc. Once all the information is provided, the Company Secretary will take it up with SSM and inform you when the incorporation is successful.
METHOD 2: Register Directly with SSM
Register for an account at SSM's MyCoID System.
Visit SSM branch in person to perform biometric verification. Prepare for long queue wait times.
Wait for verification confirmation, then login to MyCoID and select Direct Incorporation.
Make a payment of RM 1,010 and wait for approval.
This method is the cheapest option, but you'll be on your own. There's no detailed guidance on how to fill up the details.
For more information, get in touch with us.