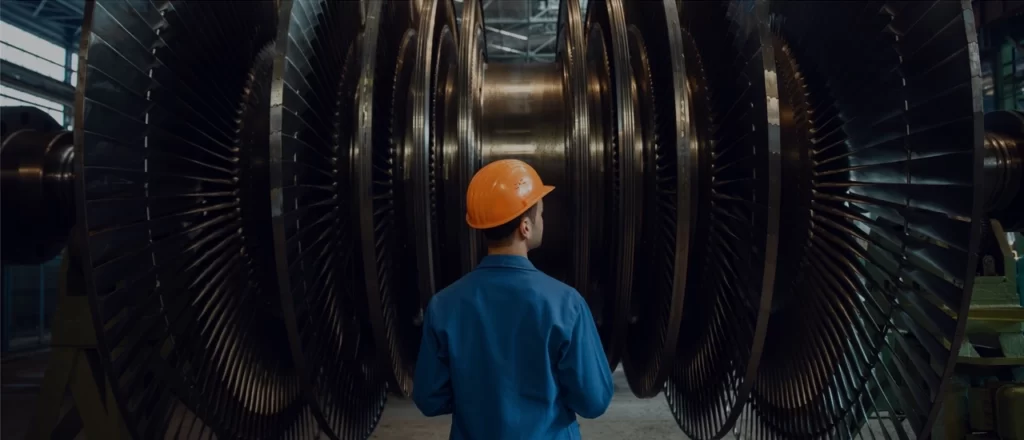 Objectives
To spur investment in high technology industries particularly in the Research and Development (R&D) field including Industry 4.0 adaptation in the aerospace and Electrical & Electronic (E&E) industries to achieve the targets set in the 12th Malaysia Plan under the Aerospace Industry Framework and Industry 4WRD initiatives; and
To facilitate aerospace and Electrical & Electronic (E&E) companies in making investments to increase their capacity to become leading manufacturers/ service providers in the global supply chain.
Criteria of Eligible Applicants
Applications are open to any aerospace and E&E company in Malaysia incorporated under the Companies Act, 1965/2016.
The company must be at least 51% Malaysian owned.
The company must be engaged in the following activities:

Manufacturing; and
Services.
Scope of Grant
The grant is provided to companies in the aerospace and E&E sectors to undertake the following R&D activities:
Pilot plant/ prototype;
Pre-clinical testing/ clinical testing/ field trials/ stress test/ user acceptance test;
Intellectual Properties (IP);
Market testing and evaluation;
Regulatory and standards compliance;
Special Services;
Raw materials/ consumables;
Administration; and
Technology/ IP Acquisition.
Note: The list above is not an exhaustive list and shall be subject to review from time to time.
The proposed projects must be within the framework of the priority areas as follows
1. Aerospace
| | |
| --- | --- |
| – Additive Manufacturing | – Bio-sourced Materials |
| – Cold Spray Process | – Bio-Jet Fuel |
| – Electron Beam Welding | – Hydrogen Fuel |
| – Horizontal Forging | – Green Technology |
| – Digital Connectivity | – Electric Aircraft |
| – Automation and Robotics | – Autonomous Flight Systems |
| – Sensor Technologies | – Urban Air Mobility |
| – Artificial Intelligence | – UAV/Drone |
| – Virtual/Augmented Reality | – eVTOLs |
| – Simulated Data | – Satellite/Rocket |
| – Multiphysics Simulations | – Airframe Enhancement |
| – Advanced MRO Technologies | – Aircraft Cabin Parts |
| – Smart Airport Systems | – Aircraft Recycling/Remanufacturing |
| – Air Traffic/ Radar Systems | – Chemical Milling |
| – Smart Materials | |
2. Electrical and Electronics (E&E)
(i) Embedded System and IOT
Advanced Wireless Communication
Data Analytics, Big Data Science
Energy System Harvesting, Market Focus – Healthcare, Transportation, Manufacturing, Retail, Smart City, Agriculture
Organic, printable electronic
Sensors & Sensing
Wearables
(ii) IE Design, Test and Validation
Advanced Testing (IC/ Board/ SW)- Probe cards, JTAG
IC Design Automation (cell library, IP library, Al)
UI/UX specific/ defined SoC/IC/FPGA
Advance Logic Emulation
(iii) Smart Manufacturing
Computer Integrated Manufacturing; Efficient Manufacturing/ Scheduling System
Industrial Automation & Robotics
Integrated Design to Manufacturing, Supplier in Design
Smart Factory, loT in manufacturing
Addictive Manufacturing & 3D Printing Technology
Connected Supply Chain
Low Volume, High Mix (adaptable manufacturing)
The grant shall also include fixed assets acquisition and working capital to support the implementation of the project. However, standalone working capital financing is not allowed.
Limit of Grant Amount per Application
Aerospace
Minimum: Ringgit Malaysia One Hundred Thousand (RM100,000) only
Maximum: Ringgit Malaysia Forty Million (RM40.0 million) only
E&E
Minimum: Ringgit Malaysia One Hundred Thousand (RM100,000) only
Maximum: Ringgit Malaysia Twenty Million (RM20.0 million)
Eligible Expenditures
Eligible expenditures refer to the overall proposed Project within the framework of the priority areas specified in the Scope of Grant above.
Non-eligible expenditures:
Maintenance and repair costs including renovation of premise;
Wages paid to employees;
Employee benefits programmes;
Legal and stamp duty fees;
Insurance;
Collateral or loan including its interest paid for purpose other than the approved project scope;
Office expenses and supplies including general purpose computers & peripherals and mobile phones;
Utility expenses; and
Advertising and marketing expenses
Concept of Grant
The Grant will be given on a matching basis of up to a maximum of 80% based on eligible expenditures.
---
Want to know more about starting a Sdn Bhd? What's the best way to start one, and what should you be mindful of? Register and find out in our upcoming webinar!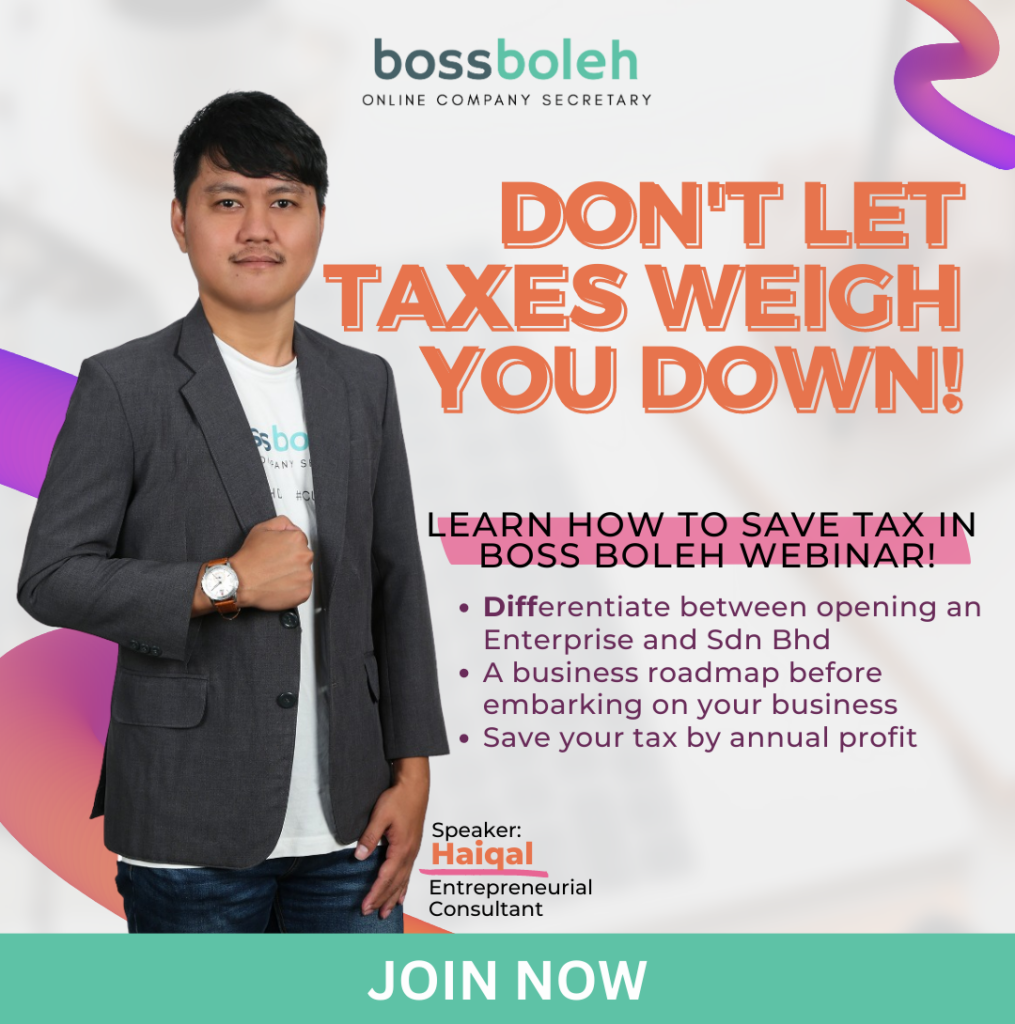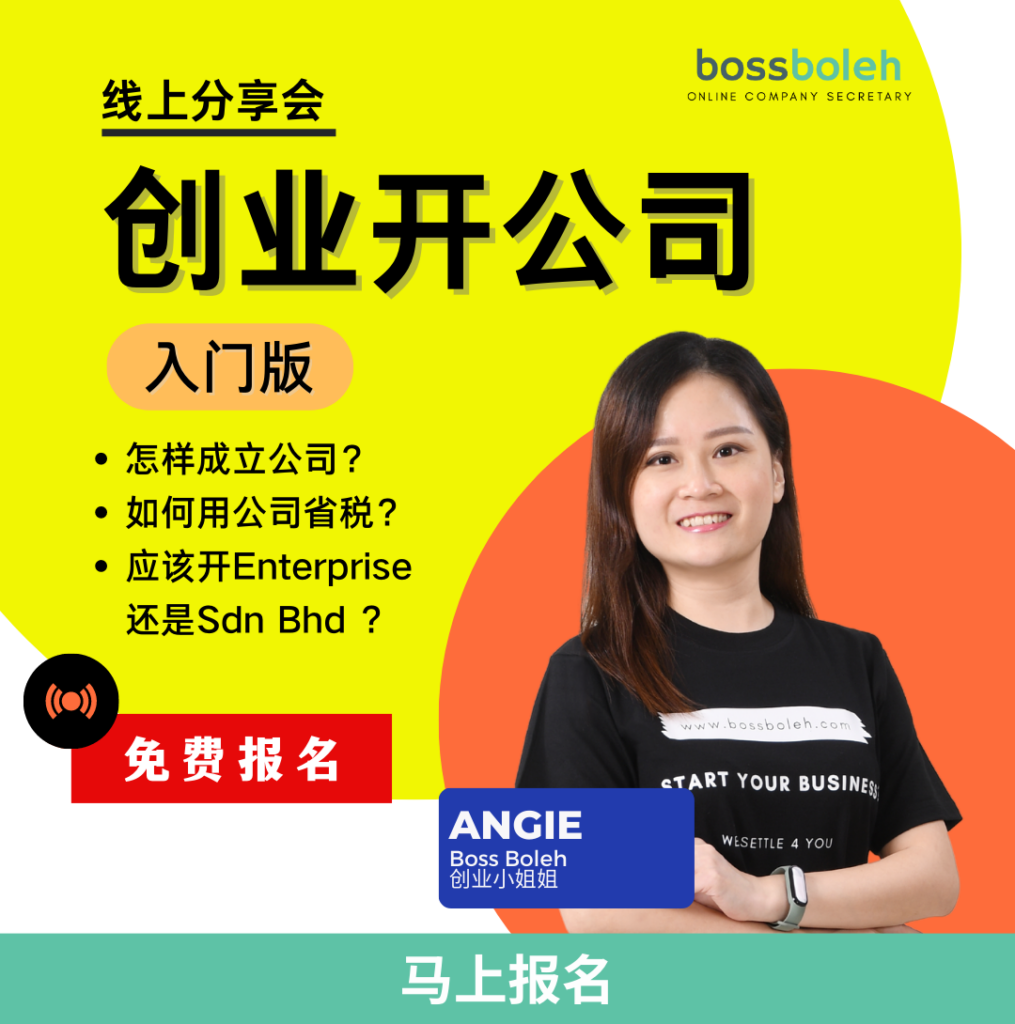 Are you ready to form your Sdn Bhd with Malaysia's #1 award-winning Online Company Secretary? Contact us now via WhatsApp @ 018-7678055!