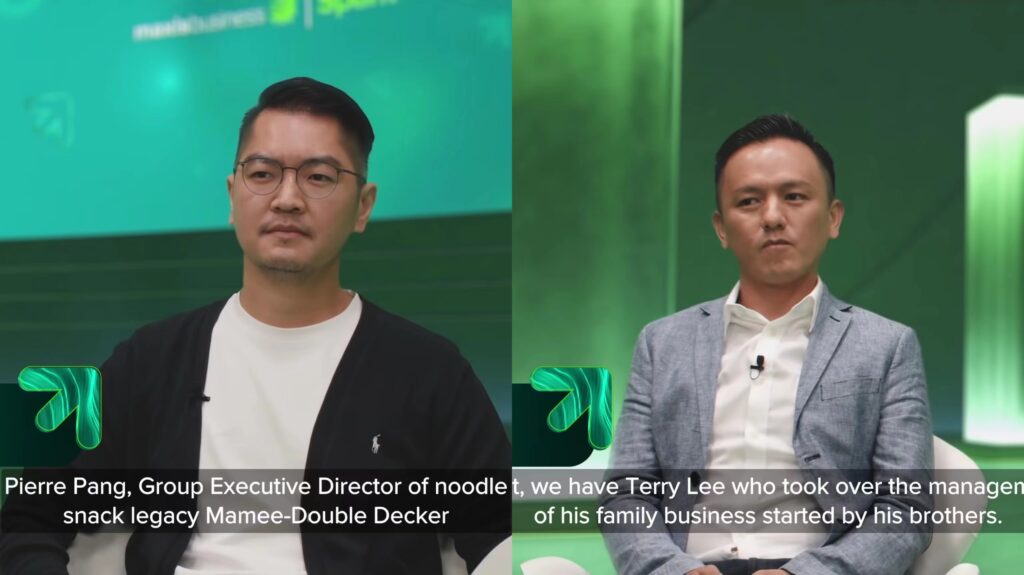 Spark Let's Talk by Maxis Business is a talk show that welcomes prominent Malaysian entrepreneurs to discuss opportunities and problems faced by SMEs in Malaysia, particularly as they adjust to the new normal. For startup entrepreneurs or those looking forward to learn something, this is a show for you. Today we will be looking at Episode 2 of family-owned SMEs. These businesses accumulate for at least 70% of Malaysian SMEs which allows them to play a crucial role in Malaysia's economy. For this episode, Maxis had a great conversation with two of the well-known Malaysian family-owned business owners, namely Pierre Pang, Group Executive Director of noodle snack legacy Mamee Double Decker which was founded by his father and grandfather, as well as Terry Lee, who took over the management of BMS Organics, now one of the leading organic retail and café business in Malaysia which was also his family business started by his brothers.
Various interesting perspectives were exhibited by both guests throughout the show and this article is here to share them with you. Maybe you are in the position of handling challenges related to family-owned businesses. Then you are definitely in the right place to get some fresh insights!
1. Pros and Cons of Being In Family-Run Business
Although working with family members can be comfortable and less worrying due to the trust between families, Pierre believes that the lack of clarity and communication is an obvious disadvantage since it will create ambiguity and challenges for everyone. Luckily, his grandfather has maintained a great practice of creating bonding sessions to develop a strong bond, trust and communication to improve the connection amongst each other ever since 15 – 30 years ago. One thing that they constantly remind themselves of is that it cannot be run as a family business in order for them to protect the legacy of their founding grandfather. Instead, they view themselves as a high-performance sports team, in that everyone plays a crucial role within the company. He emphasized that no one should ever feel entitled for their position in the company even if it's a family-owned business. A clear expectation should be established to perform well for the sake of the family and the legacy with a single-minded goal. As different points and views might emerge, he welcomes them as he sincerely trusts these opinions or decisions are in the family's best interest. At the end of the day, he is sure to be there to back up his family members throughout the execution of the decision. The foresight of his grandfather on family bonds has built a great foundation for the following generations.
In Terry's case, he thinks that the disadvantage of family-owned business is that the relationship can be easily affected. BMS Organics was founded by his three elder brothers, but he will always be ordered to just follow his brother's decision since he is the youngest. The clashes of ideas between him and his brothers will bring emotional impacts. Interactions at home will be awkward or weird when they have to return to the same house after an unpleasant experience at the workplace. Furthermore, since he and his brothers have equal shares in the company, it becomes difficult to agree on different matters as there is no dominant power, like Pierre's grandfather, to set the standard for everyone.
By looking at both family-owned companies, Pierre's family business seems to have a better system since it has been established for three generations, whereby a clear governance and mindset can be acknowledged from their operation modes. On the contrary, Terry's scenario is similar with most Malaysian SMEs. They will face struggles with power, due to the first generation not opening up for the next generation to take over, causing it to just stop at the second generation.
2. What Can the Second Generation Do to Gain Credibility Within the Family Business?
"Proving yourself with results to gain credibility", is the answer Terry confidently gave during the show. In the early days when he graduated back from Australia, his brother passed him the wholesale department and his ability managed to triple the total sales. The remarkable performance undoubtedly helped him to gain recognition from his brothers. From there on, Terry was given the opportunity to transform the company to adapt digitalization.
3. Conflict is unavoidable, but how to overcome conflict?
Terry, who is experienced in overcoming conflicts among his brothers, mentioned that clear communication and clarity plays a key aspect. Miscommunication undoubtedly will lead to conflict; therefore, he constantly communicates and explains with the people around him why he is doing this. For instance, it took him three years to explain clearly why he wanted to bring an investor into the company. It was for the company's future and the sake of their family as well since they have equal shares. The existence of the investor not only motivates him to produce better results, but also serves as a determining party when conflict arises with his brothers. Miscommunication also includes speaking of things that are discouraging or undermines someone's hard work – something normally seen in a family-owned businesses. Thus, Terry decided to turn the family-owned business into a corporate venture. This holds his family members and him accountable as well by reminding everyone, everyone they can be replaced, if they're not performing well. This includes himself.
4. Research Shows That Malaysian Family-Owned Businesses Are Slow to Adapt in Terms of Technological Advancements and Strategies in Their Businesses. Do They See This Happening in Their Businesses as Well?
"Technology can be a great complementor rather than a great inhibitor", Pierre said in the show. He truly believes that technology is key to their business because the world is changing at an extremely rapid pace. Although the importance of technology is clearly understood, the problem was the lack of confidence in how to take the first steps. Different problems emerge when they try to implement technology, for example what is the first step, how much is the cost, what is the right thing to do and so forth. The bigger the company, the bigger the risks of implementing technology as this would change the way they work for all these years. Thankfully, there are a lot of resources today from the internet, or companies that can support them in terms of how they can implement a specific technology for one's business.
Pierre also shared about a case of how implementation of technology to their business changed their operation method and business mindset. The pandemic has changed their working mode to virtual, with half of their team working from home and half of their team working at other parts of the world. This makes them more effective as well as eliminates the "Chinaman" working mindset. Pierre explained that the "Chinaman" business mindset is where if you're not in the office, if you're not clocking in and clocking out on time, means you're not working. He is lucky that both his father and grandfather are open to accept that this mindset should be thrown away in order to progress forward. In a nutshell, he advised that although taking the first step can be scary, it is still necessary and we can work with others, to decide what's the right solution for the business.
While Terry provided another perspective saying that although he observed many of the Malaysian family-owned business are transitioning to the second generation who are trying to adapt to technology, most might face the challenge of limited budget.
With that being said, digitalization of businesses is usually introduced by the second or younger generation of a family-owned business. They are in the right position due to them being exposed to new technology more frequently. It is a big gap for the first generation because we need to understand that they started their business in a different environment that require a form of ROI-immediately for every expense. However, digitalization is a long to mid-term investment that changes one's channel and business model. Family-owned businesses that can survive from the first generation throughout the pandemic definitely had the help from new technology
5. Biggest Challenge to Build a Business with Siblings and How to Overcome These Challenges?
In the ending Q&A session, one of the business owner audiences raised a question for Terry regarding challenges of building a business with siblings. He answered that whenever there are unpleasant arguments in the meeting room, the negative emotions will be brought back home and he thinks that this is unhealthy for the family relationship in the long term. In order to resolve this issue, he has suggested two strategies to consider from. First is to start looking for investors to join the company to become the third party to validate things. Whenever problems arise, they will look at the investor and listen to another opinion from them who also have a say about the matter. This effectively reduces the conflict and tensions among his siblings.
The other strategy would be to have different people handle different companies or departments. He and his brother will usually have different opinions on various topics which leads to numerous conflicts. Thus, they have decided for Terry himself to be in charge of BMS Organics, while his brother will be responsible of the other company. As for the other two founding brothers, to give them the respect they deserve, they will be involved in the director's meeting to give their opinion and they will adapt accordingly if needed. If one cannot separate companies, he suggests to distribute them into two different departments within the same company that are not too heavily reliant on each other.
Conclusion
To wrap up the whole session, a family-owned business should be run like a corporate that cultivates transparency and communication. Having clear boundaries with your roles and between being a family as well as a worker in the company is crucial. Also, the world has changed, the business landscape has changed, digitalization is a must for every business to keep moving forward as well as to maintain competitiveness in the global market. Regardless of family-owned or not, everyone should try their best to perform well for the company to contribute to a better future.
If you want to watch the full episode and know more about what Pierre Pang and Terry Lee has shared, kindly visit this link:
https://business.maxis.com.my/en/campaign/spark-lets-talk/?utm_source=eDM&utm_medium=email&utm_campaign=22_Q1_Enterprise_Corporate_SparkLetsTalk_Consideration_Traffic_eDM&utm_content=Episode1&dclid=CJK71pPjxfYCFQr_jwod6uQJzg-
---
Looking to register your very own Sdn. Bhd.? Look no further. Register now with Malaysia's #1 award-winning Online Company Secretary!
Contact us! WhatsApp @018-767 8055