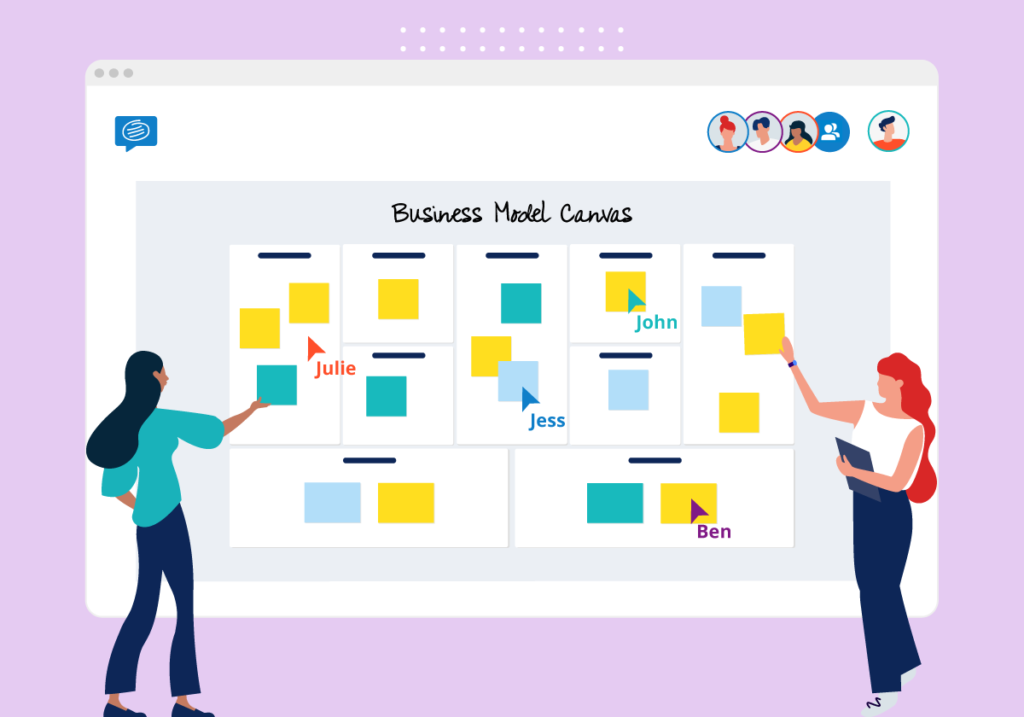 It has been nearly two years ever since the pandemic brought a significant change to how our world works. Despite the drastic economic impacts that the pandemic has brought, it has created different business opportunities for the fellow entrepreneurs out there. To implement your business ideas while generating income will be one of the great experiences. However, conducting sufficient research on which type of business model and company is a must before venturing into your own business journey. You might be wondering where to retrieve all these information and compare them at one glance…  Look no further! We've heard your needs and compiled some basic information to help you get started in this article. 
What Are The Most Common Business Models?
Simply put, a business model is a high-level strategy for generating income in a given market. It depends on your value proposition when formulating your business model. A well-executed business model allows you to meet customer expectations at a reasonable and long-term cost. Many companies periodically update their business models to adapt to shifting market conditions and business environments. Business models can come in different types as a result of wide variety of businesses. Listed below are some of the common types that you can consider from:
| | | |
| --- | --- | --- |
| Type of Business Models | Description | Example |
| Retailer | The retailer business model is one that the majority of consumers are familiar with and engage with often. Supply chains often end with a retailer. They deal directly with customers and often acquire products from producers or wholesalers. | Mr DIY |
| Manufacturer | A manufacturer is in charge of acquiring raw materials and putting internal labour, machinery, and equipment to use in manufacturing completed goods. Also, a manufacturer may generate highly duplicated, mass-produced products or customised ones, as well as sell products to retailers, distributors, or customers directly. | Top Glove |
| Fee-for-Service | Fee-for-service business models are focused on labour and providing services rather than selling goods. A fee-for-service business strategy may impose a set cost for a particular agreement or an hourly rate of compensation. Companies that charge for services are frequently specialised, providing information that may not be widely known or may call for specialised expertise. | BP Healthcare |
| Subscription | The goal of subscription-based business models is to draw customers and turn them into devoted, lifelong customers. Offering a product that needs recurring payments, often in exchange for benefits that last for a set period of time, accomplishes this. Even though being primarily used by digital enterprises for access to software, subscription business models are common for physical commodities, such as monthly recurring agriculture/produce subscription box deliveries. | Spotify |
| Freemium | Freemium business strategies draw clients by exposing them to simple, constrained offerings. The firm then tries to upsell the customer to a more pricey, sophisticated product once they have started utilising their service. A business seeks to highlight the advantages of becoming a premium member, even if a consumer might conceivably remain on freemium for all time. | Foodpanda |
| Bundling | A corporation may try to bundle products to offer numerous items to a single buyer if it is worried about the expense of acquiring just one customer. By seeking to upsell them on various items, bundling takes advantage of current clients. Pricing incentives for purchasing numerous items can be used to encourage this. | AT & T |
| Marketplace | The concept of a marketplace is rather simple: in return for providing a venue on which transactions may be made, the marketplace is paid. Although there is no requirement for a marketplace for transactions, this business model aims to make them simpler, safer, and quicker. | Lazada |
| Affiliate | The foundation of affiliate business models is marketing and the extensive network of a particular organisation or individual. Companies pay an entity to advertise a product, and the entity frequently gets paid in return. That payment might be a set of fixed amounts, a share of the sales generated by their marketing, or perhaps both. | Social media influencers such as Douglas Lim |
| Razor Blade | This business strategy, which is aptly called after the product that inspired it, tries to offer a durable good below cost in order to ultimately make high-margin sales of a throwaway part of that good. Razor blade firms may give free pricey blade handles as part of a strategy known as the "razor and blade model," which assumes that customers would eventually need to purchase more razor blades. | HP (Printers and ink) |
| Reverse Razor Blade | In a reverse razor blade business strategy, a high-margin product is sold upfront rather than depending on high-margin companion items. After then, low-cost or free companion items are offered for usage with the product. As continued usage of the product is not very profitable, this strategy seeks to promote that initial purchase. | Apple (iPhones + applications) |
| Franchise | The franchise business model makes use of current business strategies to grow and replicate a firm in another place. Franchisers engage with incoming franchisees to fund the business, advertise the new site, and manage operations. They are frequently food, hardware, or fitness enterprises. A portion of the franchisee's profits are paid to the franchisor in exchange. | McDonalds |
| Pay-As-You-Go | Some businesses could adopt a pay-as-you-go business strategy, where the price is based on how much of the good or service is consumed, as opposed to imposing a set cost. In addition to a monthly price depending on use, the business may also charge a set fee for providing the service. | Utility companies |
| Brokerage | Without actually selling a product, a brokerage business model links buyers and sellers. When a contract is closed, brokerage firms frequently get a cut of the money paid. Brokers are most prevalent in real estate, although they are also widely used in construction and development. | ReMax |

What are The Most Common Types of Company Registration in MY?
There are 3 categories of business entity registration, including Registration of Business (ROB), Registration of Company (ROC), and Limited Liability of Partnership (LLP). There are a total of 8 company entities to choose from, each of which is governed by a different set of laws:
1. Sole Proprietorship 
When starting a small business by yourself, a sole proprietorship is the most straightforward business structure to use. For either RM30 or RM60, you can register a sole proprietorship under your legal name. You must complete the registration process for a Sole Proprietorship on your own, without using a middleman. Since you are the only proprietor of the company, you are personally liable for all debts incurred by it and are responsible for paying any taxes due. A sole proprietorship is suitable for Malaysians or permanent residents of Malaysia who desire to launch a small business on their own.
Advantages of a Sole Proprietorship
It is cheap to register.
It has a simple registration process.
It has simple compliance to follow.
2. Partnership 
A partnership is a type of business entity with a minimum of two and a maximum of twenty partners. Similar to a sole proprietorship, a partnership's participants share the company's responsibilities and pay taxes through their individual income taxes. You and your partner(s) will be personally liable for any damages the court awards if a client sues your Partnership. For professionals like lawyers, accountants, corporate secretaries, doctors, and so forth, this is a typical business structure. Partnership will be best suited for Malaysians or permanent residents who plan to establish a small business with a business partner.
Advantages of a Partnership
It is cheap to register.
It has a simple registration process.
It has simple compliance to follow.
You can share the liabilities towards the business with your partners.
3. Private Limited Company (Sendirian Berhad (Sdn Bhd))  
A private company limited by shares is known as a Sdn Bhd which is suitable for anyone who plans to start a SME business in Malaysia. It is a separate legal entity capable of earning revenue, holding property, signing contracts, suing another corporation, and being sued on its own behalf, separating your liabilities from the firm. As per the updates of the Companies Act 2016, a Sdn Bhd can be formed with you being the only director and shareholder without involvement of other business partners. However, there should be at least 1 director residing in Malaysia.
Advantages:
Its registration is relatively cheaper.
Its compliance procedure is relatively simple to follow.
It ensures your personal liabilities are separate from the company's liabilities.
It can expand by raising paid-up capital and issuing shares to investors.
It is allowed to be 100% foreign-owned.
4. Company Limited by Guarantee (CLG)  
A public corporation with no share capital for non-profit reasons, therefore suitable for non-profit organizations. Members who hold the responsibility as guarantors have the obligation to run the company since there will be no shareholders. However, members of the company are in duty to pay debts according to the amount of guarantee as promised if the company shuts down, but hold no responsibility to contribute to the company's revenue. Thus, the company's profit can only be used for purposes that align with the objectives of the constitution.
Advantages:
It does not have any upfront capital contribution from members.
It is the only business entity that can promote art, science, religion, charity and pension schemes.
It is possible to apply for a company tax exemption.
5. Unlimited Company (Sendirian (Sdn))  
A Sdn company is excluded from the limitation of shareholders' liability towards the company. Instead of running a business, formation of a Sdn company can be registered to organize a mutual fund that holds assets for investment reasons. Similar to a Partnership, it has unlimited liability among its shareholders and allows shareholders to sell their shares back to the company.
Advantages:
It offers flexibility in the ownership of shares.
It can either be a private or public company.
6. Public Limited Company (Berhad (Bhd))  
Despite sharing the similarity of being a company limited by shares with Sdn Bhd company, Bhd company has its own differences such as it can issue shares to the public without a limit on the number of shareholders, it must have at least two directors, and it is governed by Bursa Malaysia Securities Berhad and the Security Commission of Malaysia. Because of the strict compliance requirements, registering this corporate entity can be time-consuming and costly. On the bright side, its public listing on the market allows easier funding for the company. A Bhd company will be more likely suitable for large business model companies.
Advantages:
It is much easier to raise capital thanks to the publicly traded nature of the company.
Its funds are benefited from shares issued to the public.
It has flexible ownership of shares.
7. Foreign Company  
This is suitable for non-Malaysians who have already established business overseas, and plan to establish a company branch in Malaysia to offer their customer services or for operation. Since non-Malaysians without permanent residency face limitations to register a business in Malaysia, it grants them an alternative as it allows not having a director residing in the country. Thus, you can only choose to form a company between a Sdn Bhd company, or a foreign company.
Advantages:
It allows non-Malaysians to run a business in Malaysia without a director residing in the country.
8. Perkongsian Liabiliti Terhad (PLT) / Limited Liability Partnership (LLP)
An LLP is governed by the Limited Liability Partnerships Act 2012, which was only passed in Malaysia in 2012. This act governs other business entities differently. It combines a Sdn Bhd company with a Partnership, with certain peculiarities including the requirement of at least two partners and the absence of a cap on the number of partners a company may have. LLP is still a fresh concept; hence it is not frequently registered in Malaysia.
Advantages of an LLP:
It has no maximum limit on the number of partners.
It is relatively cheap to set up.
It has flexible agreement among partners.
With all these information and differences of business models and company registration types, we hope you've gained some insight on which suits you the best. Additionally, you should also take other aspects of your business journey into consideration when making your decision. These aspects consist of your business objectives, mission and vision, types of business, start-up capital, and so forth. Deciding the most suitable business model and company type is a crucial step before embarking your business journey, because it will ensure an effective and efficient journey to the top of your business.
---
Looking to register your very own Sdn. Bhd.? Look no further. Register now with Malaysia's #1 award-winning Online Company Secretary!
Contact us! WhatsApp @018-767 8055