Do you know all the important elements that are needed before registering your Sdn. Bhd. business? Don't worry, we've got you covered. We have put together a list of 5 key factors to address before starting your business just for you.
Read our full article here.
Why a company secretary?
Let's say you are new to opening a Sdn. Bhd., or maybe a switch-over, but you are uncertain with its process. This is when the company secretary takes over and its perks are very straightforward:
Not required to visit SSM.
Fulfilling any questions relating to the company.
Documents able to be handled in a timely manner.
Why BossBoleh then?
BossBoleh is fully a cloud-savvy company secretary, and we are fully online, digitally all the way to your doorstep. Secretarial services will be handled online with just a click of a button. It is that simple.
Benefits of choosing BossBoleh:
Easy to register.
One-stop platform with all documents prepared online.
Documents all stored in our cloud platform 24/7 (With privacy ensured).
Paperwork signed online.
Online service to fully help our clients understand the process of Sdn. Bhd. and its benefits.
Straightforward and reasonable pricing.
How to register with BossBoleh:
Find us at https://bossboleh.com/ and choose your desired company name.
Sign Up for a free user account, or login if you previously owned one.
Pick your preferred secretarial plan (Start-up or Ultimate).
Make an online payment (All payment is fixed, without any hidden charges).
Proceed with filling in business nature, shareholder, and director information.
An authentication of signature and face recognition will be required for the owner to be verified (a.k.a. e-KYC).
Our company secretaries will handle the rest of the documents and keep our clients in check.
How to enter the promo code:
Copy the promo code given after submitting the form.
Key in the promo code in the coupon code section.
Enjoy the discount!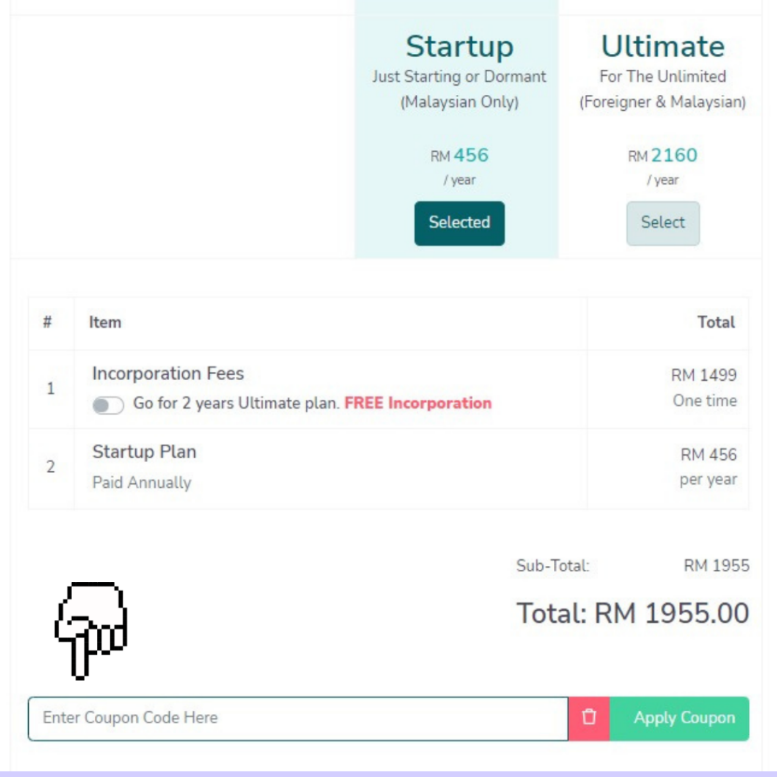 Starting your business is so EASY now at bossboleh.com.
For more information, get in touch with us.
Reach out on WhatsApp @018-767 8055